The Flawless Foundation Routine You've Been Looking For
November 22, 2022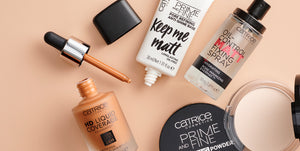 Your all-in-one guide to achieving the perfect complexion
There's no denying the power of a good foundation routine is there? You know, the one where your skin looks naturally luminous, smooth and flawless. Achieving that desired second-skin effect is all in using the right products in the right order. Think of your best foundation routine like you would the perfect recipe–it's all about the right ingredients.
Looking back, it's a wonder how we even learned about applying foundation in the first place. For us, it was a whole of trial and error with color-matching and old-school beauty sponges. Now that we have countless tutorials and even better product formulas (not to mention our beloved beauty blender!), achieving elite foundation status has never been easier.
 
These are the five main steps to master when it comes to a flawless foundation routine.

Always Apply A Primer First
After your morning cleanse-and-moisturize routine, the next important step for a flawless foundation finish is primer. Just like you wouldn't apply fresh paint to your walls as is, you shouldn't apply foundation without a primer coat to your face either. Primer will ensure your foundation goes on smoothly and evenly, and even lasts longer. It also helps to prep skin by minimizing the look of pores and even combatting any redness on your skin.
There are so many primers to choose from and the key to finding the one that will help you perfect your foundation routine is to select formulas unique to your skin type. A great one-size-fits-all option is this moisturizing formula. It has soothing aloe to calm skin and it also packs a lightweight hydration punch, thanks to its cooling gel texture.
If you're looking for skin-specific benefits in your primer, be sure to pay attention to labels. Look for words like anti-redness, poreless and oil-control, accordingly. The best news? There is a primer for every skin type so you'll be covered no matter what your needs are.

Find Your Best Foundation
If you've been using the same type of foundation since high school, it's time for a change. We get it, finding the right shade and perfect-for-you formula can feel daunting, especially if the product you're using now is fine. But we promise you, today's formulas and color selection, along with a little research, will be worth it in the end. 

Before deciding on your desired foundation formula, ask yourself a few key questions like the kind of coverage you want (sheer, full or medium) and texture (liquid is the most versatile and user-friendly). You'll also want to consider your skin type here as formulas created with skin benefits in mind. For example, if your skin is on the oily or combination side, you will benefit from using this long-lasting matte foundation. If you would describe your skin as being on the dry side, you'll want to reach for this glow-getting moisturizing formula, which won't settle into any dry areas on the face. It's a best-seller for a reason: it makes your skin look incredible!
 
 
Concealer Cues
Not everyone is on team concealer–but they should be. We're not saying you have to apply it all over your face but we are saying it's the secret weapon for acing how to use foundation the right way. For areas that need a little extra TLC like underneath the eyes (hello, dark circles our old friend) and red patches, concealer provides instant gratification. It's a little more concentrated than foundation, meaning it won't budge. It will add just the right amount of brightening effects to where you need it most.

Finding the right concealer for your foundation routine comes down to preference. Do you prefer a solid to pat over skin or a liquid that you can stipple on with a concealer brush or beauty sponge? We're big fans of a waterproof formula because of its lasting power. The last thing we want to worry about is it slipping off or fading throughout the day.
Set Your Foundation With Powder
Did you know that powders are what the pros rely on when considering foundation tips for photoshoots and videos? No matter what foundation effect you're going for, a loose powder will elevate it by taking down excess shine, which happens inevitably, especially in T-zone. We love a lightweight translucent powder dusted over areas of the face where shine crops up, like the forehead, apples of the cheeks and chin. When it comes to applying a loose powder over your foundation, think bigger is better when it comes to a fluffy brush and blend (then blend some more) until you have a seamless finish.
Fixing Spray is Your Friend
The last and most important flawless-foundation secret is to use a finishing spray to help extend the wear of your makeup and make your skin look even more luminous and seamless. Go for formulas that don't contain alcohol (it can be drying!) or perfume, which can be irritating to your skin. Think about finishing spray as the accessory to your foundation routine–the final finishing touch that will give your skin an instant boost while prolonging its wear.
you might also like...
 Are you guilty of these common highlighter blunders? Right this way for help Behind every gorgeous complexion and dressed-up face is likely a highlighter or two to thank. It's the one product we've come to rely on for giving us a lit-from-within glow like nothing else can. Highlighters have only grown in popularity, too, which means there are so many available with even more applications and trends than ever to choose from (hello strobing, glass skin and glazed donut skin just to name a few). The result? A whole lot of highlighter-gone-wrong mistakes happening to the best of us. Below,...
Follow these three easy rules to ace your job interview makeup. We've rounded up the best beauty dos and don'ts so you can make a good first impression at your next job interview. Hint: less is more.