How To Find Your Perfect Foundation Shade–Online!
February 21, 2022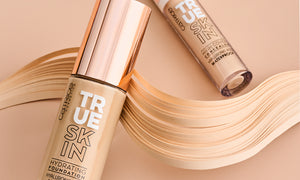 Here are the best foundation tips and tricks for saving you time and money.
If your search for the perfect foundation has led you down a winding, detour-heavy road, you're not alone. Think about this: If the average woman changes her job seven times, just imagine how many foundations she tries out before committing to one that's just…okay. We're here to tell you that you don't have to settle. But, you may have to rethink your approach to finding the right fit.
Why Your Own Skin Type Matters
When it comes to finding the right foundation for your skin, working with your skin type is key, before even swatching any colors. "If your skin is dry and you apply a matte foundation, not only will it not lay on the skin properly but it can also enhance any dry patches and make the skin look flaky," says Robert Sesnek, celebrity makeup artist. He recommends working with your skin type, not against it. That means one the best foundation tips is choosing formulas with your desired skin benefit in mind. Have dry skin? Go for a moisturizing formula enriched with ingredients like hyaluronic acid such as Catrice True Skin Hydrating Foundation. If your skin is oily, you'll get great results from a matte finish, oil-free formula like Catrice HD Liquid Coverage Foundation. Sensek favors hydrating varieties for normal to dry skin types and a matte/satin finish formula for those with oily skin types so that there's less upkeep needed throughout the day.
An Easy Way To Find Your Skin Tone
Want to know how to make foundation look natural on your skin? Get to know your skin's natural undertones. The three main types of undertones are: cool, olive/warm and neutral. "Essentially it means whether you pull warm or cool tones in your skin. Once you know, you can pick the proper foundation shade," says Sensek. While some skin tones can have a little of each, a good rule of measure is to look at your skin to see if it has more pink or red undertones (if so that means you're more neutral to cool) or golden/olive tones which means you're more warm. If it's balanced that means a neutral tone will work best. Another easy trick to determine your undertone is what jewelry looks best on you. If you look best in yellow or rose gold jewelry, then you are most likely a warm skin tone. If you look best in silver, platinum, and white gold, then you are probably a cool skin tone. If both look great on you, then your skin tone is likely neutral.
Pro tip: "Never match your foundation to your concealer," says Sensek. According to him, under the eyes and highlight points should always be one shade lighter, to brighten and highlight.
Use Beauty Tech To Find Your Foundation Shade
Color-matching tools have come a long way so you no longer have to rely on a best guess from swatches seen on your fave beauty influencer. Catrice takes the guesswork out of color matching for both the Catrice True Skin Hydrating Foundation and Catrice HD Liquid Coverage Foundation so you don't have to, with two easy-to-use tools. One is a fast and fun color match quiz and the other is a convenient shade finder tool that provides an instant match based on your current foundation color. The tool is powered by Match My Makeup, the world's first scientifically and mathematically derived foundation shade matching tool. Simply select your current shade from a list of 150 brands and it will give you an instant recommendation. Once it arrives, just swatch it on your lower neck near your collarbone. "Applying it there guarantees the color works, and matches your face and the rest of your body by blending everything together," advises Sensek. Afterall, no one wants to have a complexion that's noticeably two shades darker than the neck and body!
Bonus: Need more help finding your best color match? You can email Catrice a picture of your face for a custom match by one of their experts.
Ace Your Application
The best way to prepare for foundation is to prep your skin for the most seamless finish. Mist on Catrice Prime and Fine Multitalent Fixing Spray so skin is hydrated and ready. Then put two drops of your foundation onto the back of your hands and apply it using a foundation brush or beauty sponge and blend, then blend some more. To make your foundation look natural, dampen your beauty sponge a bit to sheer out the formula.
you might also like...
 Are you guilty of these common highlighter blunders? Right this way for help Behind every gorgeous complexion and dressed-up face is likely a highlighter or two to thank. It's the one product we've come to rely on for giving us a lit-from-within glow like nothing else can. Highlighters have only grown in popularity, too, which means there are so many available with even more applications and trends than ever to choose from (hello strobing, glass skin and glazed donut skin just to name a few). The result? A whole lot of highlighter-gone-wrong mistakes happening to the best of us. Below,...
Follow these three easy rules to ace your job interview makeup. We've rounded up the best beauty dos and don'ts so you can make a good first impression at your next job interview. Hint: less is more.