Hot Summer Makeup Trends To Try Now
August 11, 2022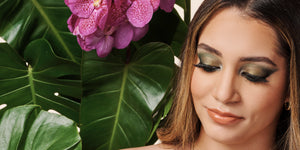 Get ready to get your gorgeous on with the hottest beauty looks of the summer
Summer has arrived and we've rounded up the hottest summer makeup trends to celebrate. From no-makeup makeup looks to juicy, plump lips, to that summer-approved golden-hour glow, we've got all your summer makeup looks covered. Here are five of the hottest summer makeup looks to try from now until Labor Day.
At last, summer makeup has arrived and we can hardly contain our excitement after a few seasons of restraint. The punchy colors! That glow! The good shine in all the right places! With so many summer makeup looks to try, from our fave celebs and saved posts on our feeds, together with all the hot new beauty products, it's easy to feel overwhelmed with possibilities. The good news is this season, there's a look for everyone and every personality. From no-makeup makeup looks to juicy, plump lips to that summer-approved golden-hour glow, we've got all your summer makeup looks covered.
Here are five of the hottest summer makeup looks to try from now until Labor Day.
Watercolour eyes
Painterly eyes in washes of green, blue and gold were seen all over the latest red carpets. We fell for Emma Chamberlain's gilded lids and Normani's green shadow at the Met Gala and swooned over the gorgeous green shadow Zendaya recently wore to the Time 100 gala in New York. The great thing about shades like green and gold are they're seen in nature for a reason: they are flattering for all.
Get the look using a tropical-inspired eyeshadow palette that can be used day or night for eyes that dial up the summer cool factor. Whether you're going for a matte, glitter or metallic finish, this highly-pigmented palette has it all.
No-makeup makeup
One of the biggest makeup trends for summer 2022 is no-makeup makeup or what we we call the supernatural effect. It's meant to enhance your natural beauty with the shades and tones that you might see when naturally flushed after a run. The trick to pulling off this you-only-better look is all about starting with a good base. That means a foundation that correctly matches your skin tone  and highlights and contours in all the right places.
Get the look with a handy shape and define stick to highlight the natural contours of your face, like your cheekbones. This new formula is super blendable making contouring a breeze–even for beginners! We love the idea of embracing an earth-toned monochromatic palette for your eyes and keeping the lips within a shade of their natural tone using balm or gloss.
Hyper-glowy skin
We know, that gorgeous summer glow is a classic summer makeup look that transcends trends but this season, radiant skin takes on a whole new dimension. Thanks to trends like glazed doughnut skin and status skin, made famous by celebs like Hailey Bieber, Yara Shahidi and of course, BeautyTok, achieving your best glow starts with a good skincare routine and the right glow-getting products.
Get the dewy, bronzed and flawless-skin look by starting with a moisturizing beauty oil that dials up the glow factor. After letting it soak into the soak for a few minutes, follow up with your concealer or foundation only on areas where you need to conceal redness or blemishes. The key to pulling off this look is letting your natural skin shine through. Then, sweep a luminous powder bronzer over the apples of your cheeks, temples and down your nose for skin looks absolutely radiant, flawless and summer-makeup worthy.
Blush flush
When it comes to the best makeup trends in summer 2022, blush is likely to top the list. Makeup artists and BeautyTok alike have gone wild for the pretty makeup staple recently. So, what makes it a special summer makeup look for this season? It's all in the placement. Statement blush is applied with a heavy hand and looks best when reaching up to the area underneath your eyes. It's also added to the nose for a glam sunburn effect.
Get the look with a highly-pigmented baked blush, which allows you to build up your desired intensity, while also giving the skin a subtle glow and moisture boost, thanks to skin-loving coconut oil. The peachy-coral shade is also the greatest summer makeup color of all time (yes, we said it!).
Juicy-fruit lips
One of the happiest summer makeup looks this season is popsicle-bright lips. Maybe it's the fact that the masks have come off or that we're finally embracing bold beauty again but bold, rich hues are ripe for the picking this season. The best part about a power pout? It can be dressed up or down, worn alone as a beauty statement or with a subtle shimmery shadow for a glam look.
Get the look with a bright moisturizing lip tint that serves up rich color–sans the drying effect of a matte lacquer lippy, thanks to a hydrating formula with high water content. The hardest part is choosing which of the orange, pink or red shades to wear first!
you might also like...
Here are the absolute best spring lipstick colors of the season. From soft pastels to bright and bold statement shades, there's something for everyone when it comes to the 7 spring lipstick shades that made our shortlist.
Find all your best autumn eyeshadow looks and colors here. From jewel tones to warm spice shades, we've rounded up the best tips, tricks and products for your best fall look yet.