Self Care Starts With Skincare: Build A Better Weekly Skincare Routine Here
April 14, 2022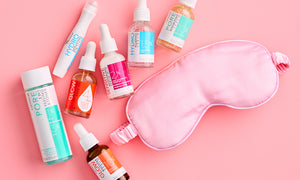 You don't have to get weekly facials for flawless skin; use these products every week instead
Is your weekly skincare routine a self-care moment or more like an afterthought? If your answer is the latter, we've got news for you. Building a weekly skincare routine is actually easier, more budget-friendly and way less complicated than you think. The trick is in finding the right products that not only give good skin results, but that truly put the care in self-care. You'll want to take notes on this no-fail weekly skincare routine.
Meet Your New Weekly Skincare Routine Essentials
Like any good recipe worth trying, adopting a weekly skincare routine starts with a few key ingredients and skincare tips (think products that go above and beyond your basics). That's right we said a few, we're all for a 10+ step skincare process when we're in for a facial, but at home, fewer/better products and steps are paramount for a routine you can commit to.
We're going to go ahead and assume that you've got your basic cleansing and moisturizing situation sorted for now when it comes to your weekly skincare routine. But in case you need the reminder: Yes, please do wash your face every morning and night (even if celebs like Kate Hudson or Cameron Diaz say otherwise). So let us now introduce to you the levelling up skincare products the pros rely on for giving good skin.
Tone It
Sure, toner can have a bad rap if its main ingredient is alcohol, which dries out your skin. But we're not here to recommend your mother's old-school toner for your weekly skincare routine. Instead, reach for the Catrice Pore 2-in-1 Peeling Toner two-to-three nights a week to give your skin a major glow shot. Thanks to ingredients like salicylic and mandelic acid (BHA and AHA), your pores will look smaller and your skin smoother and more radiant. And for the record, the vegan formula doesn't contain any alcohol (or perfume and parabens) but it does have white tea extract to help calm and moisturize skin. Why apply this at night? "AHA and BHA are best applied at night to reduce sensitivy to light and to accenuate the body's desire to heal itself while we sleep," says Dr, Lian Mack, New York-based board-certified dermatologist at Glamderm. She also recommends using vitamin A derivatives, like retinoids, the same way because they help drive collagen production and cell turnover.
There's A Serum For That!
Every successful weekly skincare routine needs a serum, period. These hardworking formulas contain potent actives and ingredients paired with a fast-acting delivery system for getting them into the skin faster than typical moisturizers. When it comes to choosing the right serum for your weekly skincare routine, shop for serum based on your skin type. Looking for a dose of hydration? Opt for the this super skin-plumping serum to plump and smooth skin instantly with ingredients like 1.5% Hyaluronic acid and Panthenol. If you're the sensitive type, try this soothing milky serum, which is made with pre- and probiotics and nourishing rice milk to help moisturize and strengthen skin. If your pores are in need of some refinement, go for this pore minimizing miracle worker. It contains 10% niacinamide, a form of vitamin B-3 that helps treat everything from aging to acne to hyperpigmentation. In a self-assessment trial, 90% of users reported smaller-looking pores after four weeks of use. If all you want in a serum is a lit-from-within glow, reach for this mega glow booster. Sub this antioxidant-rich formula in for primer when your skin needs a wake-up call in the form of brightness and radiance, thanks to vitamins C, E and B3, plus pineapple extract. "The difference between these boosters and other products currently available on the market is that these are paraben free, alcohol free, cruelty free and vegan - a very hard combination to find in skincare products," says Dr. Mack. "Moreover, they contain truly active ingredients at an affordable price."   
Don't Forget Your Eye Treatment
Your eyes say so much about your overall skin health so it makes sense to give them the TLC they deserve during your weekly skincare routine. If heavy eye creams aren't your bag (pun intended!), why not try a depuffing serum instead? This magic eye wand features hyaluronic acid, caffeine and a cooling massage ball applicator to reduce puffiness and inflammation while soothing the delicate eye area. Once you roll this over your tired eyes, you'll never look back.
Beauty Sleep Is Real
Hot tip: let your skincare work hard while you sleep. "When we are asleep, the stress hormone known as cortisol decreases and the sleep hormone, melatonin, increases. With this switch our body and ultimately our skin, tries to repair itself," says Dr. Mack. "A good night's sleep allows our body to recover from the stressors that we encounter throughout the day such as UV radiation, free radicals and pollution. She adds, "On a cellular level, the deeper layers of the skin are working hard to repair themselves, by driving new collagen production."
Maximize your beauty sleep potential by massaging this this skin-loving overnight mask to skin, 2-3 nights a week. This budget-friendly formula contains 5% squalene and vitamin C to pack a moisture-and-radiance punch that's like a booster juice for your complexion. Be sure to apply it last during your before-bed skincare routine of toner, serum and moisturizer and wash it off come morning for best results.
Facial Oil
Facial oil is what your weekly skincare routine is missing. Sure, adding oils into the mix can be intimidating but really, they've been used for centuries for a reason. They deeply nourish the skin. The first rule of using facial oil is to apply it last during your skincare routine since products like serum can't penetrate oils. Why people (and you!) will love this glow beautifying face oil. It's lightweight yet incredibly nourishing thanks to almond, jojoba, argan and rose oils to keep your skin looking healthy and radiant all day long. You can apply it before your primer for a glowy effect or mix a few drops into your moisturizer or foundation for an extra dewy finish.
Makeup With (Skincare) Benefits
We can't talk about building a better weekly skincare routine without talking about makeup with skincare benefits. Here's a refresher on why your makeup should be an extension of your skincare [link to blog on this topic here]. Our fave beauty products that serve up a skincare payoff are primer and foundation because they take up the most real estate on your face. Just like your serum, choose a primer based on its skin benefit: pore minimizing, hydrating, anti-shine, and anti-redness and make sure they have added ingredients that help nourish and care for your skin.
CTA [link to]: Check out Undercover Wonders: How To Prime and Conceal Your Way To A Brighter Complexion
you might also like...
Primer is a secret beauty weapon. It enhances your complexion, makes your makeup go the extra mile and it has skin-treating benefits. Here are the primer hacks you need to try stat!
Want to know how to detox after the holidays and get better skin? It all starts here with the best products and tips for clear, beautiful skin.