The Ultimate Guide To Detoxing Your Skin After The Holidays
January 31, 2023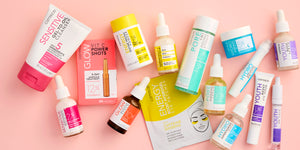 Want to embody #skincaregoals this year? Here's how.
POV: It's the new year and not quite the new you, you were hoping for. At least not in the skin department. After one too many nights of indulging, the need for a post-holiday detox is showing on your complexion. Redness, check. Breakouts, check. Dry skin, check. Whether you're looking for a skin reset or just want to get back to your healthy skin routine, we've got you covered. Here's how to get it right when it comes to the best skin detox after the holidays. After all, you got other new year's goals to get to. Bonus points if some of your resolutions will also help your skin. We're looking at you, exercise, drinking more water, eating whole unprocessed foods and cutting down on caffeine, alcohol and salt.
One of the best ways to detox after the holidays is with a skincare routine reset. This is the time to take stock of all the skincare products you're using (or that are piled up under your sink or in your vanity). Ask yourself whether they're actually working for your skin and get ready to minimize if they're not. That's right, just because you spent a good chunk of your paycheck on that ultra-rich new night cream that makes you break out, you don't have to keep it around. Now is the time to start fresh. That means checking your best before dates, too. If something looks or smells off, just go ahead and toss it. It won't do your skin any favors especially if the goal is to detox after the holidays.
Now that you have a good idea of what skincare products are staying vs. leaving, it's time to revisit the basics of a good skincare routine. Stocking these essentials will ensure your basic skincare needs are covered.
Find The Perfect Cleanser
If you're suddenly experiencing sensitive skin, it's probably a sign that your skin needs a detox cleanse after the holidays. Reach for a product that's sensitive-skin worthy meaning it has a gentle formula and won't irritate your skin further. This post-holiday detox-friendly formula is a great cleanser to start with. It starts as a gel and then transforms into oil when you massage it into your skin, which is perfect for removing makeup without stripping your skin of its essential oils. The ingredient list is minimal and contains sunflower oil, glycerin, a plant-based emulsifier, vitamin E and purified water, which means this formula is sensitive-skin approved.
Exfoliate And Brighten The Easy Way
A fan-fave way to detox your way to clear skin is by exfoliating. It's important to note that not all exfoliators are created equal. Some are harsher than others, too. If your skin is sensitive, be sure to go with a gentle exfoliator and steer clear of physical ones that have granular particles that can irritate skin and cause redness. Ease into exfoliation with this super gentle 5-day treatment. It packs 1% fruit enzymes from pineapple and papaya to gently exfoliate and renew your skin, plus calming allantoin, vitamin C to brighten and hyaluronic acid for maximum hydration. The best part? In under a week, your skin will be smoother, brighter and more even (also: ready for compliments!).
Save Your Skin With Serum
If you're not having a love affair with serum yet, this is your year to start. No post-holiday skin detox is complete without serum, the one product that will deliver maximum hydration, thanks to its unique ability to penetrate skin like no other product can. This ultra-hydrating face serum has a blend of three different molecular weights of hyaluronic acid and antioxidant hero niacinamide to give your skin the TLC it deserves. Apply it after your cleansing routine and before your fave moisturizer for best results.
Don't Forget Your Lips And Eyes
Let's face it, our lips and eyes carry a lot of beauty currency but we don't show them the skincare love like we should. Here's why we need to: in the winter especially, our lips tend to be drier and our eyes more sensitive, thanks to the elements like the cold temps and wind. Now is the time to give them the self-care they need in the form of skincare products. If creeping fine lines have you going camera-off more than you used to, adopt an anti-aging eye care product into your routine. This hydrating eye serum is formulated with the retinol alternative Bakuchiol, which is known to reduce the appearance of fine lines, plus Hyaluronic Acid and Vitamin E for major moisturization.
Another fave way to nail post-holiday detox for your skin is to restore moisture to dry, parched lips. When your lip balm just isn't cutting it, take moisturization up a notch with this lip-smoothing serum. It smoothes out fine lines and adds volume with the help of ingredients like vegan collagen, Volulip, hyaluronic acid and vitamin E to make your lips looks plump and healthy.
you might also like...
Primer is a secret beauty weapon. It enhances your complexion, makes your makeup go the extra mile and it has skin-treating benefits. Here are the primer hacks you need to try stat!
Self care starts with skincare. Learn how to build a better weekly skincare routine here with the best tips and products that deliver flawless skincare results.