Eye Makeup Hacks For Hooded Eyes
November 16, 2023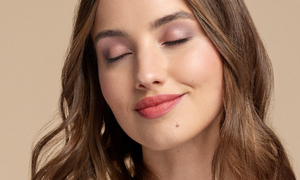 If hooded eyes are your reality, you've come to the right place for eye makeup help and hacks. We know that eyes come in a range of shapes, sizes and colors and that the best eye makeup looks are anything but one size fits all. If you are team hooded eyes, you're in good company (celebs like Jennifer Lawrence, Selena Gomez and Blake Lively are known to have them!) So, believe us when we tell you that gorgeous eye makeup is possible for your hooded eyes, too. Here are the best tips for applying eye makeup that flatters (and never falls flat) on hooded eyes.
So what are hooded eyes, exactly?
Does your eye makeup seem to disappear once you open your eyes up wide? Think of hooded eyes as having less visible lid space when your eyes are open and you're looking in a mirror. Hooded eyes make your lids appear as if the skin on the upper lid extends right to the upper lash line, and appears folded. This effect creates an overall smaller eye shape that can benefit from eye makeup that gives the illusion of being bigger and brighter.
What's the best way to apply makeup to my hooded eyes?
 1. Start with primer
There are a few non-negotiable hacks to take when it comes to applying eyeliner or eye shadow to hooded eyes. The first? A smoothing primer to ensure your eye makeup stays put. Going in with concealer and no primer on your eyes is a no for those with hooded eyes since your makeup will just slip off or smudge when you open your eyes. A primer will help keep your eye makeup in place and looking fresh throughout the day or night.
 2. Go for a soft glam eyeshadow look.
You'll want to pick up a soft glam shadow palette to do a subtle smoky eye to give hooded eyes dimension and to really open your eyes up. To create the shape of a crease (even if you don't have one naturally), try applying your base shade higher up on the lid so that it doesn't disappear when you open your eyes. We love this hack of using your eyelash curler as a guide. After your shadow is well blended, pat on the shimmery shadow from the palette onto the lids using your finger to concentrate the pigment, and don't forget to apply it in the inner and outer eye corners so your eyes reflect light and appear bigger.
 3. Add a wing with eyeliner.
To bring some dimension to hooded eyes, eyeliner is key. A subtle wing is genius for lifting the eyes and counteracting any drooping or folding happening on the lids. Go with this longwearing liquid liner for a cat eye that lasts. The best eyeliner effect for hooded eyes is a thin line along the upper lashline with a subtle flick at the outer eye corner so as not to overpower the eyes and make them appear even smaller. Be sure to let your liner fully dry before opening up your eyes wide to prevent any premature smudging.
 4. Finish strong with mascara.
Lashes can easily disappear when hooded eyes are your reality but they don't have to. If your lashes are on the straight or short side, it's a good idea to choose a falsie-worthy mascara that lifts lashes with a curved brush and creates mega volume. Be sure to use an eyelash curler first and apply a few layers of mascara for best results.
you might also like...
The highlighter reviews are in and we're serving up everything you need to get glowing
This is the only makeup prep guide you need.