4 New Makeup Trends To Try For Fall 2022
October 04, 2022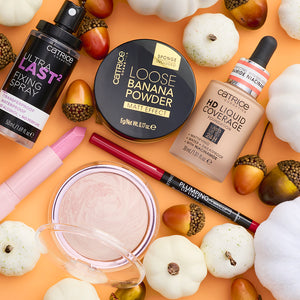 The best fall makeup looks are super easy to achieve, really!
Do you feel that in the air? It's giving fall–finally! The leaves are changing, the temp is dropping and autumn is officially here (or as we like to call it, PSL season). There is so much to love about autumn (ahem, fall beauty trends!) and the fresh start it brings. Sure, we're well beyond our school supply years but that doesn't mean we have moved on from organizing our makeup and filling our cosmetic cases with new beauty things.
Not sure where to start when it comes to navigating fall makeup trends? We've got you. Don't worry, we've sorted through all the trends, including the bleached brows and black lipstick looks to bring you only the ones we're deeming worthy (spoiler alert: they didn't make the cut). Here's what did: Sultry smoky eyes, dewy, gleaming skin and glossy red lips. The best part is, that we're showing you how to get the best fall makeup looks on a budget. After a season of these hot summer makeup trends , we're feeling so ready to get our fall beauty on.
Graphic Eyes
It's true that graphic eyes have been a runway staple for the past few seasons but for fall, they're taking on new cool-girl personas. Think bold graphic liner shapes drawn with inky black pencil and sexy, smoky French-girl eyes that look intentionally lived-in. Even a swipe of blue liner made a seasonal comeback and we're so here for it. The good news? You can achieve all of the above trending looks using this long-wearing gel eyeliner.
At shows like Anna Sui and Paul and Joe, black eyeliner in artful expressions took center stage. No matter what your fall makeup trend comfort level is, this look can work for you, whether you're a makeup minimalist or maximalist. Simply take the black shade of the 20H Ultra Precision Gel Eye Pencil and let your imagination guide you for an on-trend look that's easily adaptable.
If you're more of a smoky-eye type (and let's be real, who isn't?), you can achieve this season's standout smoldering stare seen at the likes of Michael Kors and Versace, easily. Outline your eyes using the same black gel pencil and slightly smoke it out so it extends up to your lids. You want it to look a bit messy and lived in rather than precise and neat. It also makes for a great shadow base so if you want to take your smoky eye to the next level, simply apply your desired eyeshadow overtop for added drama. 
Slick Skin
This season's most-talked-about fall beauty trend is slick skin. Think dewy but one step further, as if you're fresh from a medium-intensity workout. On the runways of Altuzzara and Carolina Herrera, models' complexions were glossy and gorgeous. Adapt this for real life by going with an ultra-moisturizing foundation mixed with your fave serum primer. This duo will provide just the right amount of coverage served up with a luminous finish.
Sun-scorched Cheeks
We may have TikTok to thank for introducing us to the sunburnt blush trend but it's here to stay thanks to the fall runways. Burnt sienna and terracotta blush hues made their debut at shows like Brandon Maxwell, Vaquera and Sacai. Fall is the perfect time to spice up your blush game by going with warmer hues. Get the look using this warm glowy blush applied to the apples of your cheeks and over the bridge of your nose. Your look will say apres ski in Aspen but your budget won't!
Red Vinyl lips
A perennial fall beauty trend favorite? Why, a classic red lip, of course. There are shiny lips and then there are vinyl lips and the latter is trending for fall. Adorning fall pouts at shows like Sportmax and Miu Miu were punchy red shades with a high-gloss finish. Get the effect by layering this gloss-giving lip booster in shade 010 overtop of this classic red lipstick. The volumizing lip booster actually does more than just give you good gloss. It's infused with menthol and hot chili extract to instantly plump your lips, leaving them radiant and full-looking. Talk about bringing new meaning to the term hot lips!
you might also like...
Here are the absolute best spring lipstick colors of the season. From soft pastels to bright and bold statement shades, there's something for everyone when it comes to the 7 spring lipstick shades that made our shortlist.
Find all your best autumn eyeshadow looks and colors here. From jewel tones to warm spice shades, we've rounded up the best tips, tricks and products for your best fall look yet.