Why Your Makeup Should Be An Extension of your Skincare
April 05, 2022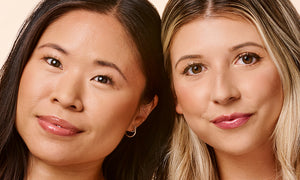 Where beauty meets skincare and your skin reaps all the rewards
If the past two years have taught us anything, it's that self-care can be a refuge. In the beauty space, that materialized in skincare as we were constantly staring at our own reflections on screens (hello, Zoom face). Cue the new rituals of practicing beauty self-care in the form of at-home skin treatments and makeup products with good-for-skin ingredients. 
The Skinification of Makeup
Thanks to buzzwords like skinimalism and the skinfluencers overtaking our TikTok feeds, everyone wants in on the good-for-skin benefits of skincare-infused makeup (think nourishing oils, moisturizing ingredients like hyaluronic acid and antioxidant-infused formulas). And it's just the beginning. According to Euromonitor International (the world's leading provider of global business intelligence, market research data and analysis), the skincare category is estimated to reach $181 billion in sales by 2025.
So what does this actually mean for your makeup bag? Cosmetics are getting their own glow up, blurring the lines between skincare and makeup even further. Why? Because we are more educated than ever on the ideal ingredients, benefits and payoff we want in our makeup and also clear on what we don't want. We want products that are cruelty-free, formulated with sustainable and non-harsh ingredients. Simply put, we want it all.
Since all makeup products with skincare benefits aren't created equally, we've rounded up the best products for eyes, lips and skin that actually pack a skincare punch.
Catrice True Skin Foundation and Catrice True Skin Concealer
Foundation and concealer are often the first points of contact for your skin, not to mention they take up the most real estate, so it's a good idea to opt for formulas that feature good-for-skin ingredients. With hyaluronic acid and nourishing watermelon seed oil to dial up your skin's hydration, these formulas serve up the best of both beauty worlds–amazing coverage and skin nourishment.
Catrice Powerfull 5 Glossy Lip Oil and Catrice Powerful 5 Lip Care
As more mask-free interactions become the reality, so does the attention that's going to be on our lips again. Ensure yours are ready and in top form (read: smooth and supple) with gorgeous lip colors that double as care.
Catrice Glossy Lip Oil taps ultra-nourishing avocado, coconut, jojoba and almond oils together with hyaluronic acid to give your lips the VIP treatment they deserve. And with its unique formula that reacts to your lip's own pH, it's like having your very own bespoke beauty fix.
Catrice Powerful 5 Lip Care is like a shot of green juice for your lips. With cucumber, watermelon, goji berry, ginger root plus hyaluronic acid, its balm-like texture and natural-only-better color payoff means you'll want to stash these tubes everywhere–in your bag, your car and right next to your keyboard.
Catrice 5 In a Box Eyeshadow Palettes
An eye shadow palette with good-for-skin benefits? That's a hard yes, please. The best part about these mini shadow palettes isn't the fact that the silky shades are all super wearable and glide on lids effortlessly (or make traveling with your makeup so much easier). It's that the powders contain rose oil, which has been used in aromatherapy for thousands of years and is known for its anti-inflammatory and soothing benefits.
you might also like...
Primer is a secret beauty weapon. It enhances your complexion, makes your makeup go the extra mile and it has skin-treating benefits. Here are the primer hacks you need to try stat!
Want to know how to detox after the holidays and get better skin? It all starts here with the best products and tips for clear, beautiful skin.