Winter Beauty Mistakes That You Keep Making
March 01, 2023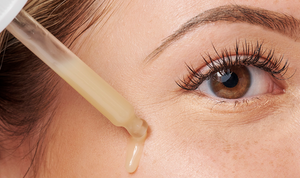 Are you guilty of these winter beauty blunders? Here's help!
As if winter wasn't already hard enough on our psyche, dealing with winter beauty blahs is on a whole other level. One look in the mirror at our pale complexions, dry skin patches and perpetually chapped lips and it's enough to have us wanting to hibernate until spring (if only!). What if we told you there is an easier way to do winter beauty right? Believe us when we say you don't have to be a winter beauty victim who falls prey to the common winter beauty mistakes that plague us this time of year. Welcome to your no-fail winter beauty SOS plan.
1. Make These Skincare Formula Swaps

A common winter beauty mistake is using the wrong skincare products for the wrong season. Your skincare routine shouldn't be the same in the winter as it is in the summer. Just like you need a winter wardrobe, you also need a seasonally-appropriate skincare routine. Some easy swaps are your cleanser and serum. Go for an oil-infused cleanser that won't strip your skin of its precious oils (if there's ever a time you need them, it's now!). This gentle gel-to-oil cleanser melts into your skin and won't leave it feeling tight like other harsh foam formulas can this time of year. Swapping out your regular skin serum for one that packs a moisturizing punch is also key. Think of your skin as a dry plant that needs water to perk up and nourish it with multiple products that you can layer. A good serum will reinforce your skin's barrier making it less likely to become compromised (read: dry, irritated and flaky). Shop for formulas with hyaluronic acid to maximize your moisturizing potential.

2. Choose Winter-Proof Makeup Textures

The first rule of winter beauty survival? Know the textures that will work harder for you in the winter. First, you don't want anything too mattifying on dry, thirsty skin because it will just enhance the look of dry, flaky skin. Ditto for any heavy concealer that will look too cakey or powder that settles into fine lines and makes skin crepey looking. The antidote to winter weary makeup is ultra-hydrating formulas and creamy textures. Think oil-infused blush that gets bonus points for imparting a pretty après-ski flush on the cheeks, and hydrating lip balm with lip-smoothing shea butter and the perfect hint of color that looks natural–only better.

3. Adopt These Winter Beauty Skin Habits For Better Makeup Application

Did you know that some winter beauty tips are just plain good skin habits? Hear us out. In the winter, our skin is responsible for the majority of how our makeup looks so let that soak in. If you want your foundation to look its best, you have to take care of your complexion using the right skincare products. That goes for bridging products, too. Repeat after us: primer is non-negotiable in the winter. Not only will it give you the perfect even base for your foundation to thrive on, but it will also help boost your overall complexion by reducing the look of pores and fine lines.
If you're dealing with dry, flaky skin or dullness, now is an excellent time to introduce a gentle exfoliating product into your routine. Try this rice-based exfoliating powder that you can use to reveal brighter, more radiant skin in just five days, thanks to fruit enzymes from pineapple and papaya, as well as vitamin C. Winter is also a great time to try slugging, where you layer your moisturizer with an occlusive product overtop to lock in moisture.
The final winter beauty must is using sunscreen. The sun's UV rays are just as potent in the winter and if you want to prevent age spots and premature fine lines and wrinkles, sunscreen is your best bet. 

More Winter Beauty Don'ts To Consider
- Don't luxuriate in a hot shower no matter how good it feels in the moment. Your skin will pay for it later, trust us.
-  If your lips are even a little parched and flaky, skip the matte lipstick, which will only emphasize the dryness more.
- Regular eyeliner and mascara won't cut if your eyes are sensitive to elements like cold and wind. Go with waterproof formulas to look your best.
you might also like...
 Are you guilty of these common highlighter blunders? Right this way for help Behind every gorgeous complexion and dressed-up face is likely a highlighter or two to thank. It's the one product we've come to rely on for giving us a lit-from-within glow like nothing else can. Highlighters have only grown in popularity, too, which means there are so many available with even more applications and trends than ever to choose from (hello strobing, glass skin and glazed donut skin just to name a few). The result? A whole lot of highlighter-gone-wrong mistakes happening to the best of us. Below,...
Follow these three easy rules to ace your job interview makeup. We've rounded up the best beauty dos and don'ts so you can make a good first impression at your next job interview. Hint: less is more.