The Best Makeup Look for A Job Interview In 2023
March 01, 2023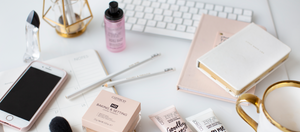 Follow these three rules to perfect your job interview makeup game
When it comes to getting job interview makeup right, remember that first impressions are everything so it makes sense to put your best professional self forward. After all, they say you should dress for the job you want and the same applies to your makeup for a job interview. We know, this can dial up the pressure factor to strike the right balance. Thankfully there are some basic makeup tips for any job interview, no matter the type, that never fail. Here's how to find the sweet spot of how to do your makeup for your next job interview.

Rule #1 Start With A Good Skincare Routine


One of the most crucial makeup tips for job interviews is to start with a good skincare routine first. Survey your skin to see if anything needs special attention. Have puffy eyes? Nix them with a soothing caffeine-infused eye roller. Wake up with an inflamed pimple or major dark circles? Reach for a pro-worthy concealer palette to make it disappear. Use the green concealer shade to neutralize redness and the peach to banish dark circles. Remember, you want to put your best face forward and that includes your complexion so treat it to a careful application of natural-yet flawless-looking foundation. We love the glowy-yet-subtle finish of this best-selling skin perfector. Be sure to blend it in properly and check out your finish in natural light to avoid looking "too done." Lastly, if your skin tends to get slicker as the day wears on, arm yourself with some blotting papers or a lightweight powder for touch-ups. Repeat after us: Sweat is not your friend when it comes to the best job interview makeup.

Rule #2 Avoid Makeup Looks That Are Too Trendy

Our biggest piece of advice for how to do makeup for your job interview is to avoid looks that are too trendy and end up wearing you. The point is to have the interviewer focus on your talent not your makeup techniques. Unless you're going for a job as a makeup artist, anything too trendy, like a graphic vibrant liner look, is just a hard pass (especially if you're in the running for a corporate gig!). So what's the best approach to your job interview makeup then? Basics only better. That means groomed brows using a clear brow gel, neutral eyeshadow to define your eyes just so (you can't go wrong with the flattering soft yet pigmented shades in this nude eyeshadow palette) and a lash-defining mascara to promote just the right amount of eye contact. Sorry but you're going to have to save the falsies and extra-long gel nails for after you've accepted your offer.
A common question for how to do makeup for your job interview is about your lip look. Do you go for lipstick, gloss, a bright color or neutral? While there are no hard and fast rules about the best lip formula texture and color for a job interview, you want to go with something that looks professional and feels good. A job interview is not the best time to try out that new bright matte lipstick! Our no-fail advice is to choose a long-lasting neutral liner to outline your lips with (this way, you won't have to worry about any transfer or feathering) and follow it up with a hydrating lip formula. Avoid anything too sparkly and aim for a color that's within a few shades of your natural lips for the best effect. We love the look of this moisturizing formula in the glossy apricot shade. Our parting advice for your best lip look for a job interview? Check your teeth for lipstick before going into your interview!

Rule #3 Use A Light Hand In Your Makeup Application

If your job interview is in person, it's a good idea to use a light hand in your makeup application. A best practice to follow is less is more. Do you really want to be pegged as that girl who showed up with overdrawn lips, severe contouring and distracting falsies? Err on the side of conservative, especially on areas like your eyes, cheeks and lips. A good gauge for your finished effect is to do a trial and take a selfie in natural light. Does anything stand out a little too much? Do your lines need to be blended out more? A little preparation for your job interview makeup also goes a long way, just like the interview questions and potential employers.
An exception to this rule is a virtual job interview. Since our screens tend to wash us out, it's better to dial up your makeup intensity when prepping for a virtual job interview. The same trick of doing a trial run and then recording yourself will also work here.
you might also like...
The highlighter reviews are in and we're serving up everything you need to get glowing
Soft glam shadow is the answer to your best eye makeup yet for hooded eyes