Romantic Makeup 101: Get Date-Night Ready With Us!
April 14, 2022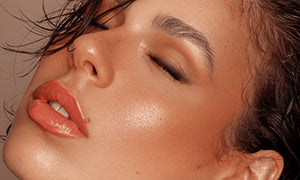 We've got the best makeup tips for a romantic date, whatever your personality
Your search for the perfect date-night makeup ends here. We've rounded up the hottest beauty looks that stand the test of time and won't disappoint come date night. Here, we're breaking down the top makeup and the products to try so you don't have to stress about looking your best–no matter what your makeup MO is.
Our Glam Inspo: Bombshell beauty
The look: Bronzed, glowy skin, sultry smoky eyes and soft, shiny lips. Think sexy, old-Hollywood screen sirens like Marilyn Monroe and Sophia Loren, as well as modern-day glam looks worn by the likes of J.Lo. and Hailey Bieber. If you want to look your best for a romantic date, this bronze-forward, smoky-eye look is goofproof and really easy to achieve with the right products and makeup tips.
Face
One of the best makeup tips for a romantic date is to go for products that have staying power so you won't have to worry about touch-ups during your main course. Opt for a mattifying foundation like this BeautyTok fave to give you a flawless complexion that won't budge. It's no wonder it's referred to as a viral cult-fave [link to The $11 Foundation That Is Blowing Up On TikTok]. The best part? Go ahead and get up close to your date, the lightweight finish will give you a second-skin effect that looks natural and the 24-hour longwearing claim will ensure your skin still looks flawless come morning.
Follow up by dusting on this skin-saving mattifying powder, which acts as a shield against humidity (or let's face it, first-date nerves!) and mattifies your skin for hours. The transparent and waterproof formula contains vitamins A and E to ensure skin stays flawless and refined.
No bombshell beauty look is complete without a highlighter and bronzer. Swipe on this fan-fave highlighter onto the high points of the face that you want to highlight like the tops of your cheekbones and cupid's bow. Applying a subtle highlighter to the cupid's bow and collarbone is one of our fave makeup tips for a romantic date look. Then, take our bronzing BFF and use it to define the cheek contour, temples, jawline and sides of the nose. This formula serves up a natural, sunkissed effect that'll make your skin look healthy and glowy.
Eyes
You'll want your eyes to shine bright on date night so go with a shimmery, smoky eye. Take the guesswork out of color matching with our multipurpose eyeshadow palette in "Golden Nude Look". It suits every skin tone and eye color and you can mix and match the easy-to-blend shades to your heart's content. Start by applying the lightest shade to the entire lid as a base. Next, apply the deep brown shade to the crease, while smudging out the color with a fluffy shadow brush. Then, take a flat shadow brush and apply the lighter brown shade to the lids. Lastly, using your ring finger for the lightest pressure, apply the lightest shimmery shade to your inner eye corners for an extra eye-sparkle moment.
Lips
Nothing says, "looking your best on a romantic date" more than a kissable lip. Keep your lip look simple by swiping on glossy lip balm. Go for the Catrice Liquid Lip Balm in "Glossy Apricot" or "Raspberry Cream" for the perfect complement to your bronzed skin and sultry, smoky eye.   Bonus: the skin-loving ingredients nourish your lips while adding a high shine finish.
Our Natural Beauty Inspo: Barely-there makeup
The look: Doll-like lashes, naturally flawless looking skin and glossy lips. This no-makeup makeup look is the perfect go-to look for a date night that's casual and calls for a no-fuss look. Here, the focus is where it counts: on your skin and lashes. Not only does it take minutes to achieve, and using minimal products, the best part is you'll still like look you–only better!
Face
For a look that says, "Is she or isn't she wearing makeup?" skip the foundation and spot treat any areas on the face with redness or blemishes instead using this amazing face perfector. That's right, all it takes is a minute for this mousse-like formula to give skin a mattifying effect that essentially works like a magic eraser for the skin by banishing imperfections and reducing the appearance of pores.
Eyes
A fan-fave makeup trick for looking your best on a romantic date night is doll-like lashes. They provide enough drama so you can skip the shadow and the time it takes to get ready, check and check. Get the most out of your doll-lash look with our falsie-worthy mascara. Its slightly curved elastomer brush coats every lash in an inky black formula in just one application. And don't forget the lower lashes for added drama. Looking your best on a romantic date was never so fast or easy!
Lips
Swipe on a juicy lip shade for a pout that stays plump and hydrated. Your best bet? This juicy lip balm for just the right amount of color, shine and moisture.
CTA [link to]: Chek out Forget The Filler, Here's How To Get Plumper Lips For Less
you might also like...
 Are you guilty of these common highlighter blunders? Right this way for help Behind every gorgeous complexion and dressed-up face is likely a highlighter or two to thank. It's the one product we've come to rely on for giving us a lit-from-within glow like nothing else can. Highlighters have only grown in popularity, too, which means there are so many available with even more applications and trends than ever to choose from (hello strobing, glass skin and glazed donut skin just to name a few). The result? A whole lot of highlighter-gone-wrong mistakes happening to the best of us. Below,...
Follow these three easy rules to ace your job interview makeup. We've rounded up the best beauty dos and don'ts so you can make a good first impression at your next job interview. Hint: less is more.