Highlighter Mistakes That We Want To Help Correct
April 28, 2023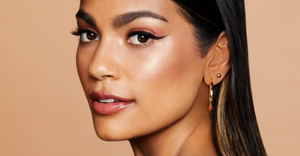 Are you guilty of these common highlighter blunders? Right this way for help
Behind every gorgeous complexion and dressed-up face is likely a highlighter or two to thank. It's the one product we've come to rely on for giving us a lit-from-within glow like nothing else can. Highlighters have only grown in popularity, too, which means there are so many available with even more applications and trends than ever to choose from (hello strobing, glass skin and glazed donut skin just to name a few). The result? A whole lot of highlighter-gone-wrong mistakes happening to the best of us. Below, we've rounded up the most common highlighter mistakes people make and how to correct them.
Are You Choosing The Wrong Color of Highlighter?
One of the most common highlighter mistakes people make is choosing the wrong color for their skin tone. If you're surprised there are even colors to consider, not to worry, they mostly fall into two main categories: warm or cool. You can brush up on how to choose the right color of highlighter (and blush) here. A good rule to follow is to choose like tones. If your skin is on the warmer side, go with shades like gold, copper and bronze. If your skin is cooler and fair, reach for shades like champagne and rose gold. Try to keep within one to two shades of your skin tone when applying highlighter or you'll risk an obvious-looking highlighter job. You know, the ones that only seem to show in photos after it's too late to fix? Remember, with highlighter, you want to avoid playing in extremes, with color, texture and your application.
How to Avoid Using The Wrong Highlighter Texture
When it comes to finding the right highlighter texture for you, be purposeful with your products and choose formulas that will deliver on your skin's needs. For example, if your skin is on the oily side, powder highlighters are a great option because they will help absorb excess oil. Alternatively, if your skin is parched or on the dry side, a creamy formula will be your best bet. Our new obsession? This handy highlighting and contouring stick checks the boxes of precision, creamy texture and convenience.
Where You Apply Highlighter Matters
The most obvious highlighter mistakes are the ones where the placement is all wrong. Pay attention to this next part because it matters: Highlighter is not the same as foundation or bronzer and shouldn't be applied liberally over your entire face. If you've ever looked in the mirror only to see a highly-reflective complexion looking back, chances are you've applied too much. Highlighter should be concentrated only on areas that you'd like to bring out and emphasize, like the inner eye corners, apples of your cheeks, cupid's bow, the center of the forehead and down the bridge of the nose and the collarbone. Remember, it's always easier to add more if needed vs. starting again or worse, trying to downplay the highlighter you've already applied. Our best tip for gauging how your application looks is to take a selfie on your phone. Do any areas look super obvious or almost wet looking? You can give those areas a light dusting of translucent powder to diffuse the brightness factor.
Use The Right Tools To Avoid Highlighter Mistakes
Finally, if you want to avoid another major highlighter blunder, you have to use the right beauty tools. Repeat after us: blended highlighter is the goal. After all, you want people to compliment your makeup and complexion, not comment on your highlighter. Choose a makeup brush that's angled so you can apply a highlighter to the areas mentioned above. And as tempting as it may be, don't use your blush brush. Keep a brush for highlighter only for best results–trust us, you'll never go back.
you might also like...
Follow these three easy rules to ace your job interview makeup. We've rounded up the best beauty dos and don'ts so you can make a good first impression at your next job interview. Hint: less is more.
We've got the best winter beauty tips to rescue your dry, irritated skin once and for all. Here are the winter beauty mistakes that are likely wreaking havoc on your skin and the solutions for fixing them for good.