Eyeshadow as Eyeliner: The Best Two-In-One Hack
August 11, 2022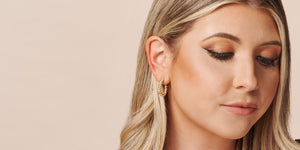 Here's how to go from eyeshadow to eyeliner in seconds!
Learn how to instantly transform any eyeshadow to eyeliner in seconds with this popular beauty hack. You won't believe how easy it is to get the liner look using eyeshadow with this foolproof two-in-one hack.
Our love for eyeliner runs deep so when see a great hack we can't help putting it to the immediate test. So, friends, that's exactly what we did when we saw the eyeshadow as eyeliner hack making the rounds on TikTok and YouTube. The brilliance of this beauty hack lies in its simplicity. You don't need any fancy tools or products (hello, mixing mediums!) to pull it off. All you really need is your favourite eyeshadow colors to use as graphic liner stand-ins. That's right, we're moving away from the standard brown and black and toward this summer's hottest eyeshadow shades (think lush tropical colors and neutral metallics).
Why use eyeliner as a shadow?
Before we get into the how, let's take a minute to chat about all the reasons why you might want to learn how to use eyeshadow as eyeliner. First off, think of the creative eye makeup and color possibilities of turning your eyeshadows to eyeliners. That electric blue shadow you only wore a handful of times? That would make a killer graphic eyeliner look. Besides, eyeshadow is way more forgiving than liner. You can experiment with shapes like a double cat eye or reverse cat eye way more easily when you're working with a shadow vs. a liner. And now for the cherry-on-top reason for giving your eyeshadows new life as eyeliner: you get way better bang for your buck with this two-in-one hack, and these days, we could all use some help in that department!
How to use eyeshadow as eyeliner
When it comes to learning how to use eyeshadow as eyeliner, there are a few approaches to try, ranging from super easy to easy. To begin, you'll want to assess your available tool situation. The most important thing to have is your desired eyeshadow shade. Tip: this hack will intensify your color so choose wisely!
If you want to make a bold beauty statement, we recommend a highly-pigmented palette with a mix of rainforest-worthy greens, golds and browns to choose from. With 12 lush shades to choose from and three formulas (matte, glitter and metallic), you'll never run out of creative inspo with this pretty palette. Prefer a more neutral liner effect? Go for this desert beauty full of gorgeous and wearable metallics like brown, gold and copper, that work for every occasion.
Once you have your preferred shade, you'll want to grab a small eyeliner brush (we like an angled one for this). Next, you'll need a liquid to transform your eyeshadow to eyeliner. Fixing spray works wonders here. If you're trying this with a new eyeshadow, use your hand as a mixing palette. If you're reviving an old shadow, you can spray the fixing spray directly on the powder and swirl it into your brush before applying it. Your technique may take some time to get just right but the possibilities are endless.
Tip: if you don't have any fixing spray on hand, you can use micellar water! Talk about two-in-one hacks for the win.
Our fave way to use eyeshadow as eyeliner is with a dramatic wing. Simply take your angled eyeliner brush with your mixed shadow and liquid formula and starting at the outer corners of your eye, use a small flicking motion (once you get comfy with this you'll be able to do one fell swoop!) until you achieve your desired shape. Then connect your cat-eye line to your upper lash line using small strokes. If you make any mistakes, just use a clean cotton swab to correct them–no makeup remover needed! This technique will make it easy to go back in until you get a perfect finish.
Tip: No fixing spray or micellar water on hand? No problem–you can still use your liner with an angled liner brush dipped in plain old H2O to pull off a sexy smokey-lined eye effect.
you might also like...
The highlighter reviews are in and we're serving up everything you need to get glowing
Soft glam shadow is the answer to your best eye makeup yet for hooded eyes