Picking The Perfect Blush & Highlighter Combo For Your Skin Tone
January 31, 2023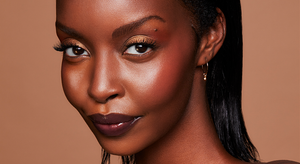 Blush and highlighter are the beauty BFFs your makeup routine needs
We are in the era of cold girl makeup (hey thanks, TikTok, finally a trend we can really get behind!) and we love the simplicity of this ultra-flattering makeup trend. Flushed, glowing and with a hint of sheen, think of this makeup trend as the main character energy of your fave
rom-com
lead. We're talking perfectly rosy cheeks, luminous skin and some carefully placed highlighter. And before you cast this look off as too precious, just know that it's a fave look of Hailey Bieber. Thankfully, you don't need her features (or budget) to pull it off. This look is all about finding the right blush highlighter combo. Here's a little hint: Your skin tone holds the key to unlocking the right look. Read more to find your winning glow duo.
Start With Your Skin Tone
Ever notice how when you apply some blush or highlighter colors they just disappear on your skin as if you never applied them? Chances are, you're choosing a shade that's just too light for your skin tone. A lot of people shop for blush by looking at the color in the package and then deciding they like it. Maybe it's not a high-stakes color choice as your foundation but we're here to tell you that color matching still counts for your blush and highlighter. Look to your undertones to help you find your best highlighter and blush shades that match your skin tone.
If you have cool undertones, shop for a complementary blue-based pink blush and cool highlighter shade. If your undertone is medium to olive, go for warmer shades, like this killer coral hue or a terracotta-toned blush and golden highlighters. If your skin tone is deep, go for a more vibrant shade of blush, like fuchsia or a deep berry tone like plum. Highlighters with warm metallic hues like gold, bronze and copper suit deeper skin tones best. And don't forget to try it before you buy. You should only need one or two subtle swipes to see a beautiful wash of color.
Choose the right textures for the best highlighter blush combo
If you want to ensure your blush and highlighter combo will play nice together, consider what textures work best for your skin. If your skin is on the dry side, an oil-infused formula will melt into your skin nicely. If you find yourself needing blotting papers on the regular, powder formulas will likely be your jam.
It's a good idea to consider using like textures for your blush and highlighter combo. The more seamless and blended your highlighter looks, the better. So if you're wearing a powder blush, layer a powder highlighter overtop over a liquid (and vice versa). You can experiment and mix and match some liquid and powder formulas but to avoid product pilling, it's easier to stick with alike textures. This powder highlighter goes on seamlessly and you can even use it to brighten your inner eye corners and cupid's bow and down the bridge of your nose.
Make Your Blush and Highlighter Application Count
You've already gone to great lengths to make sure your highlighter and blush match your skin tone so why not go a few steps further to ensure the application is flawless? After all, bad blush jobs (and highlighter) can happen to the best of us. From heavy-handed application to unblended highlighter, we've seen it all. Follow these three steps to nail your blush highlighter combo. Be sure to apply your makeup in natural light to see the truest form of the shades you're using. Next, use the right brushes. To swipe on seamless blush, go with a large fluffy brush. To ace your highlighter placement, go into the areas like your upper cheekbones and temple with a slightly smaller brush with denser bristles, which will help you control the amount of product you apply onto the skin.
Use Contouring to Your Advantage
Contouring and blush highlighter looks go hand in hand because you can't do contouring with one or the other–you need both. The basic rules of contouring go like this: use a contour palette like this multipurpose one to define the hollows of your cheeks, along your jawbone and down the sides of your nose. If you're going for a monochromatic look, you can even use these shades on your lids as eyeshadow! Next, go in with your blush to accentuate the apples of your cheeks and your temple area for a pretty flush. Then, use a highlighter to elevate areas you want to bring forward (i.e. and make pop) like your upper cheekbones, center of the nose and forehead, and the Cupid's Bow. If you need to bring more light to your eye area, consider adding some highlight underneath your brows and to the inner eye corners. Repeat after us: blush and highlighter looks are just better together.
you might also like...
The highlighter reviews are in and we're serving up everything you need to get glowing
Soft glam shadow is the answer to your best eye makeup yet for hooded eyes